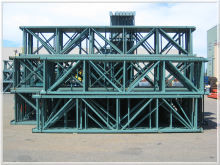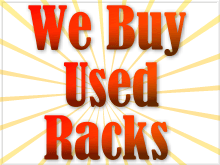 Turn Your Rack Into Cash!
Contact the RCMH Used Rack Division
Call  Karl at 916-719-5500 

 Used Pallet Rack is Our Specialty!
California, Nevada, Oregon and Washington
Used, Refurbished or New Uprights, Beams, Wire Decks
Rack Repair Systems
Rack Collapse Prevention

Check out the video>>>

>>>>>>>>

Downsizing?  Liquidating?  Moving in?  Moving out?
Installation and De-installation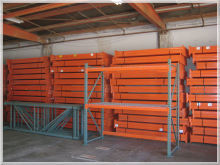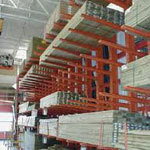 Click photo to see rack collapse
Adjustable Rack Repair
CALL TODAY!
What are the advantages of Pallet Rack Repair vs. New Pallet Rack?
Saving money is only one of them.
Even when taking proper precautions, pallet racks can still be exposed to damage. From minor deterioration to impending catastrophes, it is important to repair the racks as soon as possible to avoid further losses and to optimize efficiency. As such, routine inspections are advised to detect any issues.  Read More>>> 
Call Today 1-800-471-7225
10 Reasons Why RCMH Should Be Your Vendor of Choice
1. Our focus is to help your business succeed. 
2. Our attention to detail at the forefront of all projects is what sets us apart. We listen to your needs and concerns and gather as much information as possible to ensure the most successful outcome. 
3. When you contact us, we will call or email you in 2 hours or less. We respect that your time is valuable. 
4. We honor our commitments and we do what we say we'll do. As professionals all RCMH sales engineers wear dress shirts and ties because for 30+ years, we have have believed you deserve the best. 
5. We facilitate smooth processes with your project. We are proud to offer the services of a full time compliance specialist who can handle: warehouse design, CAD layout, engineering along with your local building department and fire code permitting. 
6. From facility evaluation to delivery, installation and final inspection, RCMH professionals will be partnering with you to complete your project on time and on budget. 
7. Our reputation has grown trust based relationships with our customers, some of which are now 'corporate accounts' with up to 50 locations. 
8. Sales engineers at RCMH have between 15 and 40 years of experience doing just what your are doing as managers of warehouses, distribution centers or manufacturing facilities. 
9. Our corporate culture grows team players with up to 22 years of employment at RCMH. 
10. We supply new and used solutions to your needs and budget. 
Permits, Fire Codes, Building Departments…What does it all mean?
Before purchasing warehouse rack and shelving, building department and fire department permits must be in place for legal installation.  Many consumers need help choosing the correct materials to obtain the proper building permit.  For instance, steel requirements will be affected by the building's proximity to the nearest seismic fault.  Read More>>>
Ross Clark Material Handling started as a local northern California business that soon spread to the central valley encompassing Redding, Chico, Roseville, Sacramento, Elk Grove, Lodi, Stockton, Modesto, Merced, Fresno and Bakersfield.  As our team grew the company grew to serve the San Francisco Bay area from Napa,Sonoma, San Francisco, Oakland, Alameda, Livermore and on to San Jose.  Southern California came next with Ontario, Burbank, Ventura, Riverside, Brea, Los Angeles(of course) and the San Diego area. Today, we are proud to say that we now have representatives in  Reno and Las Vegas, Nevada, as well as, Seattle, Washington and Portland, Oregon.
SERVING YOU FOR OVER 31 YEARS!