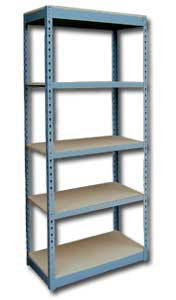 New Boltless Shelving
You could call steel shelving a specialty of RCMH Material Handling because we can provide your warehouse with any size, type of shelving you require.  With boltless steel shelving we can provide Parts Shelving, Back Room Storage, Tire Racks, Battery Racks, Archive Storage or a complete Catwalk System.
Ideal for light to medium weight loads
Boltless construction allows for quick assembly
No diagonal brace means double entry access
Shelf sizes up to 96″ x 36″
Add on units available to link rows of shelving together
Special sizes designed for Archive storage
Call Today! 1-800-471-72

25
Used Boltless Steel Shelving
Used Rapid Rack
Available Now!
$14.00 per shelf level including PB inserts
42″ x 18″  or  42″ x 24″  
Choose from 80″ to 20′ Height
Minimum 5 shelf levels
 Price Includes Particle Board Inserts
Contact us>>         
Call 1-800-471-7225