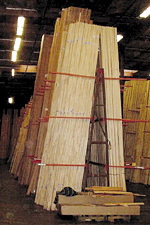 Now you can store up to 50% more moulding with metal moulding racks!
Grow within your current space
Gain back more warehouse space
Metal moulding racks have more benefits than wood racks
Hold more stock
Easy to adjust
Easy to add on
Safer, meets Building Codes
Switch to metal racking and manage your inventory better. Metal racks provide cleaner, neater storage, causing less inventory damage. They are sturdier than wood racks and they take up less space. Set-up is versatile with adjustable divider arms on 2″ centers. Racks are easy to move if you relocate.
Choice of two systems: Single Side and Double Side
Interested in purchasing this product?
Contact us now! >>