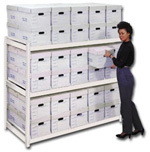 Rivet rack is a safe and effective way to meet a broad range of storage requirements with one economical system. Rugged components require no special clips, fasteners or tools — simply snap together to lock in place. Strong, sturdy steel units allow stored materials to be accessed from all four sides. Available in shelving units, bulk storage sections, single or double entry record storage sections, and tire storage sections.
Particle board or wire decking optional. Additional shelves available separately.
An ideal choice for high density records management. Available in 3, 4, or 5 level standard units, single or double entry. Full 15″ and 30″ depths.
Interested in purchasing this product?
Contact us now! >>