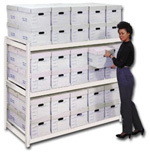 A Warehouse Solution called Archive Storage
Do you need to keep your warehouse archives safe and organized? If so, then Ross Clark Material Handling has the best product for you! Archive Storage offers excellent protection for your archives. With this storage system, your archives will stay safe without taking up all the space in your warehouse.
You won't have to worry about losing anything! Find out how you can store all of your data efficiently with Archive Storage from us!
We know how to best organize and store any type of inventory, from clothes to tools with our Archive Storage. Browse our website for more information!
Rivet Rack
Rivet Rack is a safe and effective way to meet a broad range of storage requirements with one economical system.
Rugged components require no special clips, fasteners or tools — simply snap together to lock in place.
Strong, sturdy steel units allow stored materials to be accessed from all four sides.
Availability
Available in shelving units, bulk storage sections, single or double entry record storage sections, and tire storage sections.
Particle board or wire decking optional. Additional shelves available separately.
An ideal choice for high density records management.
Standards
Available in 3, 4, or 5 level standard units, single or double entry. Full 15″ and 30″ depths.
About us
Ross Clark Material Handling sells new pallet rack and warehouse equipment. Check out our website menus above to see other ways RCMH can help you manage Your Warehouse Inventory and processes. When warehouse space efficiency & optimization is critical, companies choose Ross Clark. Also, with our quality equipment, we supply not only new but also safe and compliant used solutions to fit your needs and budget.

Remember: Besides selling Archive Storages, we also BUY USED RACK and we can facilitate installations and De-Installations.
Interested in purchasing this product?
Contact us now! >>