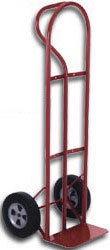 Hand trucks are a worker's best friend for transporting heavy objects safely!
They speed up the flow of work, while easing the strain of transporting heavy, bulky material. A variety of styles are available to efficiently handle any material handling need. Whether steel or aluminum, let RCMH equip your warehouse with the tools to make it an effective and safe work place. Hand trucks are not limited to the standard continuous handle.  We are showing below some variations which might be more applicable to your specific needs:
Hand Trucks Variations
Convertible Hand Truck (Two or Three Way)
Twin Handle Hand Truck
Loop Handle Hand Truck
Cylinder and Pail Trucks
Vending Machine/Video Game Trucks
Appliance Trucks
Drum Handling Equipment
Cylinder Trucks
Utility Trucks
Salesman Trucks  
Contact Us
You can Call us today by using this number 1-800-471-7225 or complete the form in this link: Contact us now! >>
What are Hand Trucks and Why They're Necessary?
Hand trucks are necessary tools in any warehouse or store. They are used to move heavy items from one place to another, such as boxes and furniture. Hand trucks come in many different shapes and sizes, which is why it's important for the user to know what they need before making a purchase.
Hand trucks are the most popular piece of moving equipment. They are used to transport large items and are significantly lighter, easier to transport and have an accessible price.
What Should You Consider When Buying a New Hand Truck?
As we already know, hand trucks are used for moving heavy loads. They are typically used in warehouses and other work environments where there is a lot of heavy lifting. There are many things to consider when you're buying a new hand truck, such as the weight capacity, size, durability, and wheels.
The weight capacity is the maximum weight that the hand truck can carry before it becomes overloaded. The size of the hand truck refers to how tall it is and how wide it is. The durability of a hand truck refers to how long it will last before wearing down or breaking down. And finally, the wheels on a hand truck refer to what kind of wheels they have – either pneumatic or solid rubber tires.