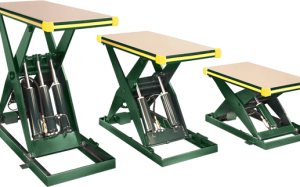 Scissor Lifts are reliable mechanized tables for work positioning, assembly, order picking, pallet loading, and a wide range of other applications such as work benches or packaging.
Scissor Lift Tables provide for a safer workplace…
Helps prevent repetitive work injuries
Easily lifts machinery, parts, material work in progress, etc.
Electric Toe/Pinch Point Guard
Emergency Stop
Push Button Hand Control
Meets OSHA Requirements
Many sizes, capacities and styles available for your specific application..