Do you want to organize your warehouse once and for all? We sell Totes and Bins! They will help you organize your business more than it is!
Totes | Plastic Containers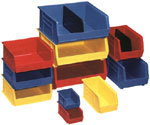 Being organized is another way you can effectively and efficiently run your warehouse. 
Plastic containers have become a versatile component that can help you develop your own customized storage system. 
Totes holding solutions for:
Call Ross Clark Today! 1-800-471-7225

Complete the Form
If you are interested in buying this product, one of our experts will be here ready to help you. Please, click on the button below. It will lead you to our contact page where you can complete the form with your questions and concerns.
I've used RCMH as a source for my warehouse racking and supply needs for at least 10 years now. They always provide quality products and extremely fast order fulfillment. I normally will call my own orders from their site in Rancho Cordova. I have never had a negative experience. They offer competitive pricing, quality products and service.
It was great working with Randy and the team at Ross Clark MH. We really appreciate their flexibility in working with our installation schedule. The crew was in and out quickly helping us stay productive. The pallet rack system greatly improves the warehouse efficiency.
I always contact Ross Clark for all our warehouse racking projects on the west coast U.S. They are true professionals, ensuring the project goes smoothly from beginning to end.
Randy and his crews were extremely professional and friendly. They all worked with us to ensure the utmost satisfaction with the install. Randy went above and beyond, remaining positive and helpful even with all the adjustments we made throughout the install. Highly recommend and will be using them again in the future.