New Service Dramatically Improves Clients' Ability to Optimize Distribution Facility Operations
Recently, expert consultants from Ross Clark Material Handling, Inc. conducted an impressive turnaround of a 200K sq. ft. distribution center for a manufacturing company located on the east coast. 
The facility's productivity and service were decreasing, and its costs were increasing. By combining data analysis and warehousing best practices, including facility layout and personnel changes, the experts were able to turn the operation around in eight weeks. The image on the right side describes the two-phase, ten step approach.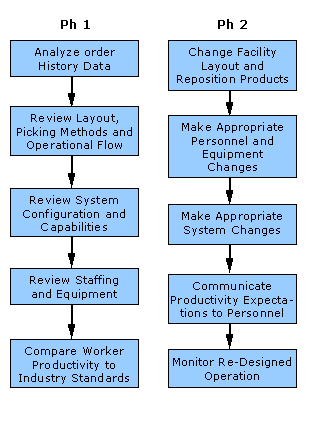 The changes yielded impressive results: 
Distribution center labor costs will be reduced by $500K annually; 

Mostly as a result of decreased overtime; 

Throughput in dollars shipped increased by 25%; 

Complete order fulfillment increased by 15%; 

Customer satisfaction and employee morale improved.
The professionals from RCMH pride themselves on delivering complete and thorough analyses and recommendations. 
As a total solutions firm specializing in best practices for warehousing, distribution and manufacturing, our priority is our clients' satisfaction. 
With extensive system and software expertise, our knowledge allows us to combine the physical solution with a system solution to ensure operational success – basically that "it works." 
We partner with our clients for the long run and our clients' success would be our success. Being independent, we leave a project with only the pride of ownership and hopefully a good referral.
Contact us Today at (800) 471-7225
We believe we can provide significant value to your company, successfully leading you to the best alternatives to improve your company's operation. 
Please

contact us

to discuss how we can be of assistance.
I've used RCMH as a source for my warehouse racking and supply needs for at least 10 years now. They always provide quality products and extremely fast order fulfillment. I normally will call my own orders from their site in Rancho Cordova. I have never had a negative experience. They offer competitive pricing, quality products and service.
It was great working with Randy and the team at Ross Clark MH. We really appreciate their flexibility in working with our installation schedule. The crew was in and out quickly helping us stay productive. The pallet rack system greatly improves the warehouse efficiency.
I always contact Ross Clark for all our warehouse racking projects on the west coast U.S. They are true professionals, ensuring the project goes smoothly from beginning to end.