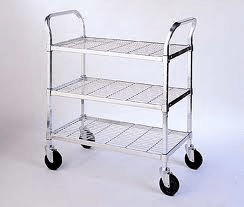 Moving around in a large warehouse or office environment can be a hassle without the right equipment. Our mobile wire carts are a must!
Open wire design (durable chrome plating) reduces dust build-up, improves light and air circulation. Protect your employees from repeated back injury with these easy rolling carts. We know that convenience for the employee is the key to efficiency.
Contact Us

Let RCMH help send your efficiency rating through the roof!
Email us now! Or Call 800-471-7225
Top 5 Uses of a Mobile Wire Cart in the Factory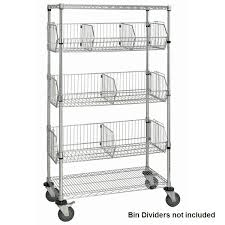 Wire carts are a great way to move heavy loads around a warehouse. The usage of wire carts has grown exponentially in the past decade. They are now being used in warehouses, distribution centers, and manufacturing plants.
The top 5 uses of wire carts in the factory are:
1) To move materials from one place to another
2) To store materials for future use
3) To transport goods from the production line to the shipping department
4) To transport goods from one storage area to another
5) To move finished products from one area to another
What to Consider When Buying a Mobile Wire Cart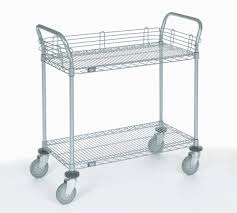 Wire carts are a mobile storage system and people often use them in warehouses and distribution centers. They provide a way to store, move, and organize products.
You can customize wire carts to suit your needs and they are even modular so you can add on or change the configuration as necessary. Wire carts are typically made of steel frames with wire mesh panels that allow for easy storage of items.
A wire cart can be a great addition to any warehouse. It can help you to organize your space and you can also use them as a temporary storage space for items that you need to return.
Other things that you should consider when buying a wire cart is the size of the cart, the number of shelves, and whether or not it will fit in your office space.